Qwik-Fit Cylinder Plug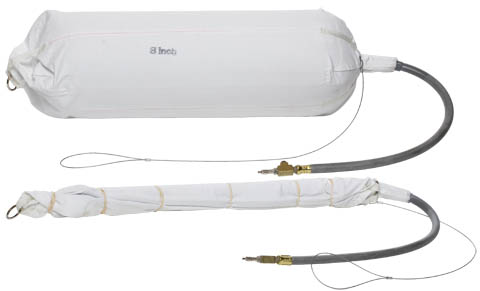 The Qwik-Fit Cylinder Plug is an inflatable plug with a rugged polyester cover which may be inflated to a high internal pressure to hold against as much as ten pounds of pressure in the pipe.
Qwik-Fit Cylinder plugs should be inflated to the pressure given on the card fasteded to each plug. These pressures are listed below.
Cylinder Plugs inflated accourding to these directions will hold against a pipe pressure equal to about 60% of the pressure in the bag. Use a gauge and monitor this pressure.
| | | |
| --- | --- | --- |
| Item Number | Nominal Size | Maximum Inflation Pressure |
| QC02.00 | 2 Inch | 15 lbs |
| QC03.00 | 3 Inch | 15 lbs |
| QC04.00 | 4 Inch | 15 lbs |
| QC06.00 | 6 Inch | 15 lbs |
| QC08.00 | 8 Inch | 12 lbs |
| QC10.00 | 10 Inch | 10 lbs |
| QC12.00 | 12 Inch | 8 lbs |
| QC14.00 | 14 Inch | 6 lbs |
| QC16.00 | 16 Inch | 6 lbs |
| QC18.00 | 18 Inch | 5 lbs |
| QC20.00 | 20 Inch | 5 lbs |
| QC22.00 | 22 Inch | 5 lbs |
| QC24.00 | 24 Inch | 3 lbs |
| QC30.00 | 30 Inch | 3 lbs |
| QC36.00 | 36 Inch | 3 lbs |
REQUIRED PIPE OPENING
Plug Size
Required Opening
2″ & 3″
1 Inch
4″ & *5″
1 1/4 Inch
6″ & *7″
1 1/2 Inch
8″ & 10″
2 Inch
12″ & 14″
2 1/2 Inch
*15″ – 18″
3 Inch
20″ – 24″
4 Inch
30″ & 36″
5 Inch
* Indicates special order size call for information